Based on a detailed analysis of existing processes, we develop an overall packaging concept which is precisely tailored to your individual customer requirements. Our focus is on streamlining the entire supply chain, which results in a reduction of the Bill of Materials as well as permanent cost reductions along the entire supply chain. In addition, our corrosion protection completely eliminates oiling and de-oiling, or the outgassing of hazardous gases.
Whether prototyping or running our own climate chamber and worldwide shipping tests: our competent application advisors are available to assist you globally at any time during the entire developing process; from 3d visualizations to full implementation.
Advanced Protective Packaging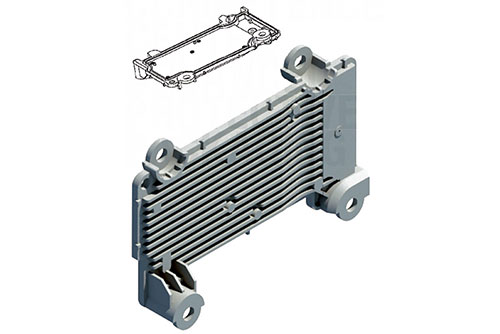 …using the example of export packaging for a die-cast aluminum housing.

Requirement: Optimized shipping and corrosion protection of the component, as well as easy handling during assembly, while considering optimized schedules and workflows.
Detailed bill of materials for the entire packaging:
Individual solutions and concepts allow a significant streamlining of the Bill of Materials. This means there is no need for costly individual packaging, raw materials for oiling and de-oiling, or materials which pollute the environment.
Packing consisting of:
A packaging which meets all requirements: this is INTERCEPT Advanced Protective Packaging!
Advanced Protective Packaging not only means resource-saving packaging, but also optimal utilization options during transport.
There are no limits regarding the design possibilities of our total packaging concepts. With individual intermediate layers, individual compartments, foam inserts, or thermoformed and molded parts, we can meet the requirements of any component and save valuable storage space.
By using INTERCEPT, time-consuming and cost-intensive steps along the entire supply chain can be saved.
The project example demonstrates the optimization of a packaging process where loading densities were increased, complicated handling processes were reduced, and efficient corrosion protection was achieved. With our know-how, we find the right packaging solution for every application area …simply better protection.